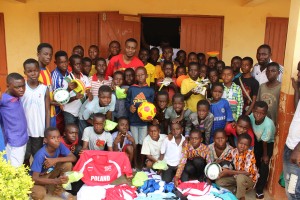 On January 21st 2017, Mr Gabriel Odartei from Ghanalinx Foundation donated soccer jerseys and balls to the Gomoa soccer for change project in the Central Region of Ghana.
This partnership was formed by Hon. Ernest Quarm, Assemblyman for Gomoa Akropong/ Akroful Electoral Area in the Gomoa East District in the Central Region of Ghana, in collaboration with Ghanalinx Foundation and the Toronto North Soccer Club.
The mission of the behind this project is to empower the youth in the community using the beautiful game of soccer, and to help them become leaders and excel both on and off the field.
Hon. Ernest Quarm set up Gomoa Soccer for Change soccer project as part of his developmental project in his electoral area and Gomoa as a whole to use soccer as a means of transforming lives in his society.
Gomoa Soccer for Change Project has taken it upon itself to bring young children who have the talent and passion for football or soccer and groom them to take up football as a profession or any soccer or football related work. We strongly believe that, once they are successful in their football careers and knowing and remembering where they from, it's possible to turn to the needy/vulnerable youth in our society.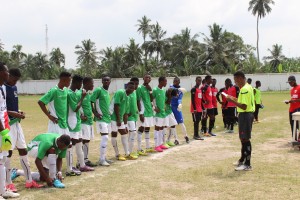 While in the town of Gomoa, Gabriel also met with the PM Madame Nana Eyiah and also watched the Gomoa U20 players in a tournament match the Swedru stadium.
To support the Gomoa Soccer4Change project, email: foundation@ghanalinx.com.